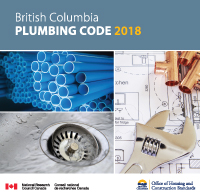 BC Plumbing Code 2018
The BC Plumbing Code (BCPC) sets out technical provisions for the design and installation of new plumbing systems to protect health and prevent water or sewer damage. It also applies to the extension, alteration, renewal and repair of existing plumbing systems. The BCPC is applicable throughout the province except for some federal lands and the City of Vancouver.
FREE ONLINE ACCESS
The Province of BC is now offering the BC Building, Plumbing and Fire Codes online at no charge. This aligns with the Federal Government of Canada's recently announced changes to the National Model Codes.
ACCESS BC CODES ONLINE
Products & Pricing
Print
| | | |
| --- | --- | --- |
| BC Plumbing Code Binder | $65 | |
| BC Building and Plumbing Code Binders | $170 | |
Back to top