BC Codes 2023 are anticipated to be adopted later in the year with a December 2023 effective date, pending ministerial approval. Sign up to be notified on when the next editions of the BC Codes are released and to receive the latest updates on product availability.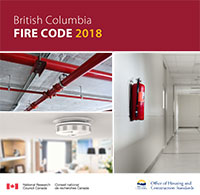 BC Fire Code 2018
The BC Fire Code (BCFC) is a provincial regulation containing technical requirements for the construction, use or demolition of buildings and facilities and the design, construction and use of specific elements of facilities related to certain fire hazards, and protection measures for the current or intended use of buildings.
FREE ONLINE ACCESS
The Province of BC is now offering the BC Building, Plumbing and Fire Codes online at no charge. This aligns with the Federal Government of Canada's recently announced changes to the National Model Codes.
Access BC Codes Online
Products & Pricing
Print
Back to top